WEDDINGS
WEDDING DJ SERVICES AND WEDDING RESOURCE LISTING
DJGREYHOUND DJ SERVICES
specializes in weddings in the greater Baltimore - DC - Northern VA metro region and South Central PA. We are a proud member of the Baltimore Area DJ Association and have extensive experience with providing wedding DJ services in Baltimore, MD, and the areas previously mentioned.
PRICE vs VALUE:
How much will a professional disc jockey cost you? Research shows that entertainment costs make up about 5% to 10% of your total wedding budget; however, you must remember to shop value, not price. Nearly all brides believe that entertainment from wedding DJ services is the determining factor in the success of their event. There are disc jockeys out there who cost less, but you need to ask yourself:
Do they use professional-grade equipment and have back-up equipment available?
Do they have extensive experience with weddings?
Do they have a solid reputation with their peers, with the public, and in the wedding industry?
Do they have a variety of music available?
Can they provide music for your wedding ceremony?
Do they offer any money-back guarantees?
Are they insured?
Do they belong to any professional organizations?
Do they have backup disc jockeys available in case of an emergency?
You may find out that those "bargain" disc jockeys are not only low in price, but low in value too. The wedding industry works like every other industry, you get what you pay for.

EXCEPTIONAL VALUE:
When comparing our wedding packages with those of the region's other premier wedding DJs, please research what each DJ includes in their package. You'll find that we give you an excellent value for your dollar:
Extensive experience in the wedding industry.
Professional grade equipment with backup components.
Access to over 75,000 titles in our library.
Wireless hand held mic system for blessings and toasts.
Optional remote DJ set-up for ceremonies and/or cocktail periods.
Fully insured (most catering halls require that entertainment vendors be insured).
Travel and set-up/break-down fees already included in pricing.
Membership in professional organizations who make a commitment to excellence.
Emcee and coordination your event's activities.
In-person consultations.
Customized playlists and do not playlists.
Money back and double your money back guarantees.
A full-service disc jockey company will normally invest up to 15 hours of their time for your wedding, but it may appear that you are only paying for "4 to 6 hours". Consultations, music research, preparation, set-up, and tear-down, travel to and from the event, education and other business-related endeavors add up to the overall success of your wedding day. Our owner is a premier wedding DJ. You can have peace of mind knowing that you will deal with the owner during the planning process, from submitting your initial date request and having a consultation, to providing music for your last dance. Our disc jockey services and solid reputation have satisfied brides, wedding coordinators, and party planners throughout the region.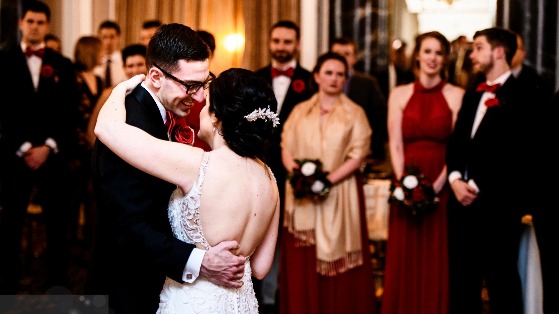 CONSULTATIONS:
Once you and your fiancee have had a chance to look over your booking packet, it is recommended that you make an appointment to stop by for a preliminary consultation. A preliminary consultation gives you the opportunity to meet your disc jockey and discuss your event before signing any contract. These consults are held at various Starbucks locations throughout the area. If you are unable to stop by in person, we can have a consultation over the phone. Once you've booked with us, you're entitled to a wedding planning consultation. Prior to your event, we will meet with you in person, or over the phone, to discuss your coordinating sheet, wedding itinerary, event time line, and music requests.
REQUESTS:

Your wedding coordinating sheet allows you to make requests prior to your event date. In addition to your first dance, last dance, and parents dances, you can also request additional titles and/or artists in advance from our library of over 75,000 titles. During your event, you and your guests can browse through the standard playlist of several thousand titles your disc jockey brings to every event. Since we don't have enough space to bring our entire library to each event, any requests not on our standard play list must be received at least 3 weeks before your wedding.

WEDDING RESOURCE LISTING:
For your convenience, we've provided a resource listing of other wedding professionals to consider.

Bakeries
Florists
Photographers
Ceremony Musicians
Christopher Dunn Classical Guitar
Wedding Planners
Event Lighting
Photobooths